Night train conference in Copenhagen, 10.9. 2020
Here are pictures and videos from the conference, which was arranged by NORDIC dialogue in cooperation with the Council for Sustainable Transport and NJS (Forum for Nordic Railway). Read the announcement (in Danish).

The conference took place at ALTINGET very close to the Danish Parliament. Press on pictures to get full resolution.
> Read 5 pages observations from the conference (English)
> Læs fem siders observationer fra konferencen (dansk)
From Theme A
We got presentations from ÖBB with Kurt Bauer and Sven Pöllauer, from SJ with Dan Olofsson, from Snälltåget with Carl Adam Holmberg and from ALLRAIL (representing the independent European operators) with Barbora Mickova. To the right you find the moderator, Poul Kattler, chairperson of Council for Sustainable Transport.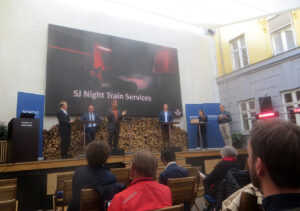 >> The ÖBB presentation in pdf-format
>> The SJ presentation in pdf-format
>> The Snälltåget presentation in pdf-format
>> The ALLRAIL presentation in pdf-format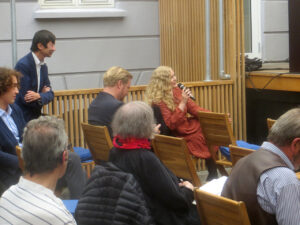 The after the presentations politicians (as here Anne Valentina Berthelsen from SF (Danish Green Party)) could contribute and ask questions. There was also opportunities for the other audience to contribute, as well as debate among the speakers.
From Theme B
We got introductions from Asge Wieth-Knudsen and Lars Christian Krogsdam, DSB. And from Lotte Horsted Sørensen and Bernd Schittenhelm, Banedanmark.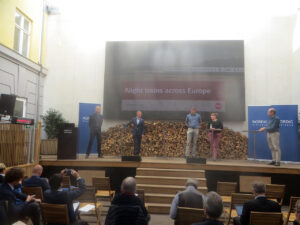 >> The DSB presentation in pdf-format
>> The Banedanmark presentation in pdf-format (Danish infrastructure manager)
From Theme C (after the lunchbreak)
We got introductions from Lisbeth Nedergaard, Spies & Sunclass Airlines. And from Kirsten Aagaard, Ruby Rejser.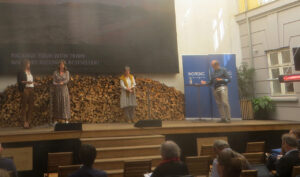 >> The Spies presentation in pdf-format
>> The Ruby Rejser presentation in pdf-format
From Theme D
We got an introduction from Anita Wagner Feddersen, Air France / KLM