>> Dansk
Signed organizations in Norway, Sweden and Denmark invite our authorities and politicians to make it possible to take environment and climate-friendly transport choices in the future. It may not be true that so many choose planes as a travel form because there are simply no alternatives.
It should be an important goal to achieve good and fast rail connections between capitals in Norway, Sweden and Denmark. Getting more to take the train between the capital cities in the short term will strengthen the interest and foundation for building the railroad, so the offer will be far better and denser in the future.
The bad train connections make it very difficult for both tourists and business travelers to choose environmentally friendly travel arrangements for the medium distances, where night trains are an ideal alternative to airplanes. If more people want to travel environmentally friendly, there is a need for the alternatives to be strengthened after decades where aircraft have been favored with the absence of taxes that correspond to their major environmental and climate impact. Only the national states can change this.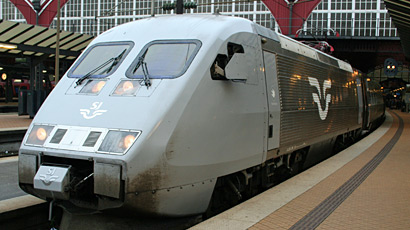 Oslo – Stockholm
It is good that the operator SJ has increased traffic, but it is threatened by future track work, as well as the fact that today's transport is far too long. There is no night in the route, which should be established.
Oslo – Copenhagen
Today, the trip requires at least one train change, and the connection Oslo – Gothenburg is very slow. There is no night train on the route, which should be established.
However, with the recent opening of the tunnel under Hallandsåsen, the train arrives quickly southwards to Malmö / Copenhagen.
Stockholm – Copenhagen
Today, SJ have trains between the two capitals and a night train between Malmö and Stockholm. Night train should be extended to Copenhagen.
Copenhagen – continent
It is very difficult to travel far from Scandinavia onward to the continent by train, as the popular night train from Copenhagen southwards was cancelled in November 2014.
However, there are night trains from Hamburg southwards.
In the short term, it is important that
There is good correspondence between the morning train from Oslo and Stockholm and the EC train from Copenhagen, which corresponds with the night trains in Hamburg.
That such connections run throughout the year.
In a slightly longer term, night trains has to be created / restored from Copenhagen to eg Basel / Zurich and Cologne / Benelux countries and Munich / Innsbruck …. "
That good correspondence is established between trains from Oslo and Stockholm to this night train.
That these connections run throughout the year.
Bikes on international trains
It must be a natural requirement for travelers with bicycles to access international trains internally in Scandinavia and on to the continent. The combination of bicycle and train is absolutely obvious and should be met.
Improve route information and ticket purchase services
Today there are problems with buying international train tickets from Norway and Sweden to Denmark and the continent. It should be just as easy to see the timetable, and pick and buy train tickets, like buying a flight ticket. Favorable prices ("Europa-Spezial") must also apply to journeys between Norway and Germany.
Collaboration necessary
With this letter, we would like to encourage our authorities and politicians to cooperate with our neighboring countries and be ready to find instruments and incentives so that international train connections can be (re) established.
Yours sincerely
From Denmark:
NOAH and NOAH-Trafik (Friends of the Earth, Denmark) by Ivan Lund Pedersen,
Cyklistforbundet by Klaus Bondam,
350 Klimabevægelsen i Danmark by Thomas Meinert Larsen,
Vedvarende Energi by Gunnar Olesen,
Rådet for Bæredygtig Trafik by Kjeld Allan Larsen,
Jyder Mod Overflødige Motorveje by Ellen Odgaard
From Norway:
Naturvernforbundet by Holger Schlaupitz,
Natur og Ungdom by Ingrid Skjoldvær,
Greenpeace by Truls Gulowsen,
LO i Oslo by Ingunn Gjerstad,
For Jernbane by Kjell Erik Onsrud,
Framtiden i våre hender (FIVH) by Anja Bakken Riise,
Besteforeldrenes klimaaksjon by Steinar Høiback
From Sweden:
Jordens Vänner (Friends of the Earth, Sweden) by Lars Igeland,
Klimataktion (Climate Action Sweden) by Jonas Bane,
Vego Eco by Anna Velander Gisslén,
Scenkonstgruppen by Patrik Franke,
Fossil Free Sverige by Cristian Tengblad,
Styrelsen i Kollektivtrafikant Stockholm by Gertrud Brorsson
Framtiden i våra händer by Gunilla Winberg